Car Rental Coverage – Your options with Auto Europe
Driving in an unknown country can often be a daunting and worrying experience. You may have doubts about differences in road rules and regulations or feel apprehension about driving in areas with heavy traffic. For the most part you will be fine; many countries apply the same road rules and signage as in your home country and for everything else Auto Europe provides excellent vehicle coverage, should the unexpected happen while you are out on the road. Opting to pay a little extra will provide your hire with a coverage that gives you security and peace-of-mind – allowing you to fully concentrate on your holiday on the road. Below we have summarised the most important information and questions regarding car rental coverage and details that are crucial to remember when you rent a car.
Do I need car rental coverage when renting through Auto Europe?
When you rent a vehicle through Auto Europe, all of the vehicles from every one of our suppliers include the necessary and mandatory coverage to drive in a given country. This is our so called Standard Package.
What is included in the Standard Package?
Collision Damage Waiver (CDW) and Theft Protection (TP) will ensure your rental vehicle is not only covered should you have an accident, but also if it is stolen, less deductibles. The cost of this option is pre-paid with your initial payment and is always included in our Standard Package.
In addition, our Standard Package also includes Third Party Liability and Fire Insurance as standard. Whilst our Third Party Liability covers you for any damage caused to property and persons outside of the vehicle, our fire coverage ensures that you are protected should the rental vehicle be affected by a mechanical fire.
Can I purchase optional additional insurance?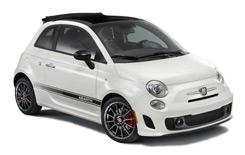 Depending on the supplier and location, additional insurance can be purchased locally upon collecting your vehicle - this fee is normally charged per day. The types of insurance can include Personal Accident Insurance (PAI) and Personal Effects Coverage (PEC). These optional insurances are designed to protect you from any potential medical bills for injuries incurred within your rental car, and coverage to loss or theft of your personal belongings.
When you plan to drive outside of the rented vehicles country, it is important to note which countries you plan to visit during the reservation process. If booking online, this can be entered during the last step of the booking process. Depending on the supplier, sometimes travel outside of the rentals country of origin does not incur an extra charge. Other times, the supplier may add an additional charge or prohibit the vehicle from leaving the country. Either way, it is important to inform us and the supplier of all the countries you wish to drive in. Failure to do so may render your coverage invalid. Always consult your bookings terms and conditions for further information
What does the term Excess mean?
You will often come across the term excess when renting a vehicle. Similar to the insurance you may have with your own car, the term excess simply means the amount you will have to pay when making a claim if your rental vehicle is damaged or stolen. For example, if you incur damages valued at €1,500, then your excess amount may be limited to only €700. This is the amount you will have to pay during your claim. Each rental has its own excess amount, and can be viewed during the booking procedure or within your rentals' terms and conditions.
If you do not wish to pay the aforementioned excess should you incur any damage or the vehicle is stolen, then we provide an optional Zero Excess cover in selected destinations, with selected suppliers. This can be selected during the booking process and what it does is that it simply removes the excess amount.
In addition to the optional Zero Excess mentioned above, Auto Europe also offers a Full Damage Protection option during the booking process. By purchasing this car rental coverage, you have the possibility to request a full refund should the car rental company charge you for damages or theft.This option provides cover also to items not covered under the Collision Damage Waiver, and includes the vehicles bodywork, locks, hubcaps, roof, glass, windscreen, wheels, tyres, and so forth. It also protects you against administration fees and loss of keys.
List of coverage options available
In summary, here are the main available coverage options that you will be presented with during your rental. Please note, that for all options listed below, a security deposit is compulsory and held on the main drivers credit card. This amount will be released back to you once the vehicle is returned in the same condition it was pick-up in . The sum held varies between suppliers, therefore please consult the bookings terms for further information.
Make a reservation paying only the Standard Package with basic cover
Place a reservation with Full Damage Protection added
Place a rental booking with Zero Excess included
Reserve your car rental with the Standard Package, but then purchase additional cover locally with the car rental supplier. You should note that this optional is practically always more expensive than purchasing comprehensive cover beforehand during the booking process.
What do I do if I have had an accident?
In the unfortunate event that you are involved in a car accident or your rental vehicle is stolen, you must always obtain a police report. Consult your coverage and insurances terms & conditions, including your rental voucher to fully understand what your liabilities, if any, are. Please work through the following process:
Contact the police to file a police report
Contact the car rental supplier (within 24 hours of the incident)
If possible, take photographic and video evidence
Complete an Accident Report with your rental supplier upon returning the vehicle
If you opted for Full Damage Protection, complete the form and send it back to Auto Europe with the required documentation. A list of which is available on this page.
If you have any further questions or require assistance, then please call our reservations department on +49 89 412 07 269 - we are here to make your car rental experience as enjoyable as possible.