Car Rental USA and Canada - Gold Rate Special Deals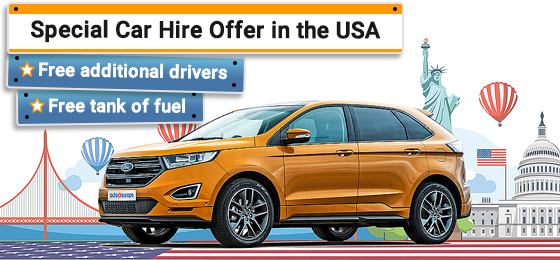 Great savings on car hire await you on your next trip to the USA and Canada! Auto Europe's Gold Rate is an exclusive offer for all who are looking for cheap car hire deals in the USA. With this package, you are sure to have peace of mind during your trip. Read more below!
What is the Gold Rate package?
Gold Rate package is Auto Europe's special offer which can be added to your booking for a car hire in the USA. When you find a car that meets your requirements, simply choose to include Gold Rate to get some additional savings on top of our low online rates.
Gold Rate advantages

Three additional drivers
As you already probably know, most car rental packages will not include additional drivers free of charge. Our Gold Rate, however, allows for not only one, but three additional drivers for your car hire! This will come in handy especially during long roadtrips across the USA and Canada, where you will be able to change at the wheel and get some rest before you start driving again.

First tank of fuel
Perhaps the greatest feature of all - Gold Rate brings you the first full tank of petrol for free! You can sit back, relax and drive away, without worrying about finding a petrol station right away.

Optional extra: GPS
Local car hire companies will often offer you a satnav at a certain price, which will almost certainly add to the cost of your rental. Avoid this, by adding a GPS to the Gold Rate package. As the GPS is not included in the Gold Rate, you need to look for Gold Rate with GPS description on our booking engine to book the additional equipment as well. Book a GPS and it will be ready when you arrive to pick up your rental car!
How can I add the Gold Rate to my booking?
Find a car in the USA or Canada using our booking engine. Fill in your search requests and then click on the "Get Your Quote" button. All corresponding search results will be shown in a grid. Click on the supplier or price, scroll down and find the Gold Rate package offered in the description of vehicle. Here is an example:

All the advantages of the Gold Rate you can find in our Gold Rate Infographic. Do not hesitate! Make the most of your trip in the USA and Canada with our Gold Rate package!