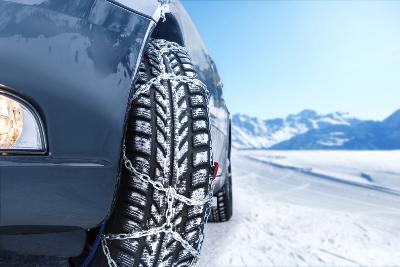 Save with our free winter tyres deals for your car rental!

At Auto Europe, we are currently offering car rental packages with free winter tyres for multiple worldwide destinations. All you need to do is book a car using our special winter rates and once at your location, you will be provided with winter tyres at no extra cost. Following is a list of countries in which this offer is included in your rate:
Austria
Belarus
Bosnia
Czech Republic
Germany
Estonia
Finland
Hungary
Kosovo
Iceland
Latvia
Lithuania
Macedonia
Norway
Poland
Romania
Slovakia
Slovenia
Sweden

During your online booking, simply look for the special packages that display "Winter Tyres Included". To give you added peace of mind; we have put together a summary of rules & regulations for driving during these winter months. Not all suppliers come with our winter deal; it is therefore required to select our special seasonal package during your online booking. Doing so will save you time, money and provide that extra relief of knowing you'll be prepared for winter driving.



Switzerland
No exact laws or requirements exist for driving during the winter months in Switzerland. Areas known for wintery conditions will have appropriate road signs indicating which equipment is compulsory. Generally most Swiss car suppliers will offer vehicles with winter tyres at no extra charge.
Italy
There is no overall rule in Italy for winter equipment. However, in some areas, snow chains and winter tyres are required during the period from 15th November till 15th April. Keep an eye out for the appropriate road signs that indicate when the equipment is required. In Aosta Valley you are required to have snow chains and winter tyres from 15th October till 15th April. If in doubt, we advise taking up the opportunity to book your rental, using our special winter rates. This will ensure that your car rental in Italy will be fitted with snow chains.
Eastern Europe
Suppliers in the majority of Eastern European countries provide winter equipment as standard. A full list of countries in which suppliers have no extra cost for this service is provided above. Many car rental suppliers for Bulgaria and Croatia recommend fitting winter equipment to your vehicle between the months of November and April. The cost is normally included in their quoted rental offer.
North America
When visiting the USA during winter many suppliers equip their car rentals with all-season tyres at no extra cost. Further north in Canada, most suppliers only offer winter tyres for Montreal and Quebec City. It is recommended to refer to your Terms & Conditions to be fully versed with your supplier's winter policy.
The Balkans
In countries such as Macedonia, winter tyres are a must and even required during the months of November and March - with all suppliers already including the fee in their rental quotation. In other countries such as Bulgaria and Montenegro, suppliers may charge an additional fee. If you wish to save on this cost, check out our special seasonal offers whilst booking online.