Estonia Car Rental Fleet Options
Estonia may not spring to mind as a holiday destination at first, but if you haven't been there yet, you will be surprised by the wealth of sights and activities on offer. This Baltic country combines a rich historic heritage with lovely peaceful countryside and always proves to be a great winter destination for the whole family. Auto Europe can arrange your car rental in Estonia at great prices thanks to our fruitful co-operation with a large number of companies. Below is a compact guide to our fleet and car rental types in Estonia.
Why Rent a Mini Car in Estonia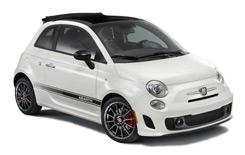 Popular for short weekend getaways without too much time spent on the road, Mini cars are usually our most affordable car rental category. These vehicles are fuel efficient and have small but powerful engines. Thanks to their size, Mini cars are the best option for city rides as well as short trips within Estonia. With enough room for up to four people or two people and two carry-on bags, Mini car rentals are highly recommended for friends and couples on a budget and on a weekend getaway in Estonia.
Most popular Mini car rentals in Estonia:Toyota Aygo, Kia Picanto, Mini Cooper, Ford KA, Volkswagen Up and other similar cars.
Why Rent an Economy Car in Estonia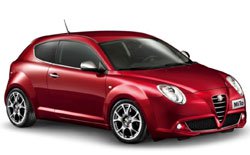 While there are many reasons to opt for an Economy car rental in Estonia, the best ones are definitely the price and the size of Economy vehicles. Still small enough to make manoeuvring easy, yet spacious enough to provide room for up to five passengers with one big suitcase, Economy cars are only slightly more expensive than Mini cars and come with unlimited kilometres. If you opt for an Economy car, you will definitely get value for money.
Most popular Economy car rentals in Estonia: Toyota Yaris, Opel Corsa, Renault Clio, Volkswagen Polo and many other similar models.
Why Rent a Compact Car in Estonia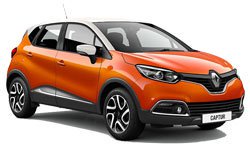 Travellers in Estonia are welcome to choose a model from our Compact car class, which are increasingly attractive to anyone who is looking for a good price-performance ratio. With guaranteed mobility and freedom on the road, Compact cars will take you to any destination in Estonia smoothly and comfortably. One of the advantages of booking a Compact car is the wide variety of available models in this rental category.
Popular compact rentals in Estonia are: Renault Megane, Opel Astra, Toyota Auris, Volkswagen Golf, Toyota Auris Estate, Volkswagen Golf and other similar cars.
Why Rent a Mid-Size Car in Estonia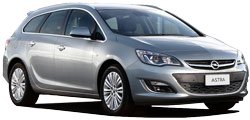 All visitors to Estonia who would like to see and do more should consider renting a Mid-Size car and enjoy all the benefits of this category. In addition to its comfortable interior and more legroom than the previously listed categories, Mid-Size cars come in a variety of models for you to choose. Their more than decent luggage capacity is reason enough to opt for Mid-Size car class if you have two suitcases and are travelling with up to five people.
Our popular Mid-Size rental models in Estonia: Toyota Corolla, Volkswagen Passat, Nissan Qashqai, Opel Zafira, Renault Laguna Estate and similar vehicles.
Why Rent a Family Size Car in Estonia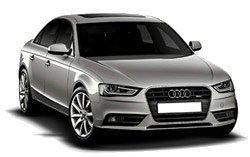 The Family size also known as the Standard category includes larger cars which will give you a great smooth driving experience on the roads of Estonia. With extra legroom and a separate boot for luggage, the Family size vehicles are an ideal choice for families with children setting off on longer trips within Estonia.
Popular Family Size rental models in Estonia: Toyota Avensis, Toyota RAV 4, Skoda Kodiaq, Toyota Proace, Mercedes C Class, Volkswagen Passat, Toyota Landcruiser, Mercedes E Class and many others.
Why Rent a Luxury Car in Estonia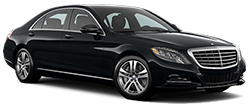 For an even better holiday experience in Estonia, book a Luxury car from our diverse fleet. Enjoy Auto Europe's top service whilst driving a superb car model with plenty of add-on facilities. Luxury rentals can in fact be quite affordable and you will not always have to break the bank to enjoy driving one of these beauties. Be sure to check out our prices for luxury vehicles in Estonia.
Popular luxury and sports models in Estonia: BMW 520i.
Why Rent an SUV in Estonia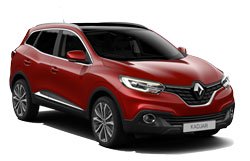 Take to the Estonian countryside in an SUV from Auto Europe. Extremely popular with tourists, these vehicles can be rented out quickly, especially in the summer season. Offering much comfort and increased stability on the road, SUVs are perfect for extended family trips where you are taking lots of luggage or sports equipment along.
The SUV vehicle model on high demand in Estonia: Toyota CHR, Toyota RAV, Skoda Kodiaq and other similar cars.
Why Rent a Van in Estonia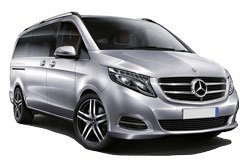 Van rentals in Estonia are highly recommended for trips of up to twelve passengers in a group. Make your next trip to Estonia an epic adventure and spend some quality time together even whilst driving. Travelling in a group is more fun and for such trips Van rentals offer great value for money.
Popular Van rentals in Estonia: Volkswagen Caddy Maxi, Toyota Proace, Ford Tourneo and many others.
We hope our guide has given you enough information on car rental classes in Estonia. Should you have further questions, please call us on +49 89 380 356 76. Our reservations agents are more than happy to assist you on all booking-related matters. You are also invited to book your next car rental securely online in only three easy steps.