Keddy Car Rental: Information about Keddy by Europcar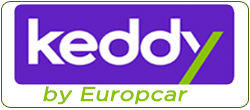 Europcar's budget brand Keddy, provides its clients with a quality service at affordable prices. Keddy car rental is only bookable through travel agencies and car hire brokers such as Auto Europe. Keddy has locations around the world in 145 countries and offers the same fleet as Europcar. This supplier is a perfect match for budget-minded travellers that want the same quality of service as is offered by Europcar but at cheaper rates.
Auto Europe has been offering its car brokering services for more than 60 years, in which time we have gained incredible insight in the industry and are able to offer the best possible car hire service! Over the years Auto Europe has built up strong partnerships with its travel partners. This allows us to offer exceptional competitive rates, work with the world's leading car hire companies and offer our clients the best service. When you choose Keddy or one of our other suppliers available in our booking engine you can count on outstanding customer service locally.
It is possible to book a car rental with Keddy safely during the COVID-19 pandemic. Click here to discover the health and safety measures implemented by Keddy during the coronavirus crisis.
Amazing car hire rates with Keddy by Europcar
Europcar, the mother company of Keddy, is the world's leading car hire supplier. Both companies strive to give clients the best possible car hire service. Normally, cars from Keddy's fleet are not older than six months and all customers have 24/7 road side assistance. Regardless of the place and time of the accident, there will always be a Keddy staff member there to help you.

It is carefree driving with Keddy's support and Auto Europe's customer service! There is a big team to assist you.
The Keddy car hire experience
With a few clicks and some details you can make use of the exceptional service of Keddy car hire. Use the booking engine on the top of the page, choose your vehicle, compare it with other suppliers such as Hertz and book your perfect rental car. On our website you will also find reviews from customers that have made use of the Keddy car hire services. You can also add options to your booking such as GPS, child seats, or ski racks by requesting them with your reservation.
Enjoy your own Keddy experiences through Auto Europe and explore new destinations like Australia or Cyprus. You can make your reservation online, or by phone with our capable reservation team. Europcar desks handle the Keddy bookings locally.