Firefly Car Rental: Great Deals with Auto Europe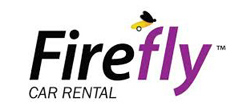 While Hertz is probably the most famous name on the car rental market, not everyone will know much about Firefly, its daughter company. It was created in 2013 in an attempt to offer customers a low-cost car hire brand. The official location of the Firefly brand is Florida.
With significant experience on the car hire market and presence in more than 180 countries and 120,000 pick-up locations, Auto Europe, a car rental broker, strives to give you not only the best prices but also superb customer service and an excellent fleet of vehicles. Throughout the years, we have been partnering with various national and international suppliers. Shortly after Firefly was founded, Auto Europe hand-selected this new budget car hire brand and included it in its offer. Thanks to the low prices and presence in a large number of countries, you can benefit from Firefly car hire and save money on rental. Please browse through our website and check our FAQs for more information regarding car hire with Auto Europe.
Sun-seekers travelling to Spain, Italy and France make the majority of Firefly customers. In addition to these southern European countries, Firefly is present at 100 pick-up points in more than 13 countries.
Oftentimes situated off-airport instead of being directly at the terminal, Firefly can avoid expensive airport fees and thus offer its customers low-priced car rental. Such favourable rates are exactly what draws customers to Firefly. You will often be offered a free shuttle from the airport to the nearby Firefly office. The pick-up point as well as other important information are listed on your Auto Europe car hire voucher. Please read it carefully before your trip.
What to pay attention to when booking with Firefly?
When renting with Firefly, please note that you will need a valid national driving licence which is at least one year old at the very beginning of the rental period. If the driving license is issued in a script other than Latin, an international driving license may be required. The age restrictions for Firefly vary depending on the destination. Drivers in Spain must be at least 21 years old while the minimum age for car hirers in Italy is 23 years. Sometimes car hire is possible even if you are only 21 but with an additional young driver fee. Firefly accepts all major European credit cards. Please note that in the case of a rental with a debit card, it is compulsory to purchase a supplementary insurance. Cash payments are not accepted.
Auto Europe and Firefly - the right choice!
Firefly offers customers various services such as 24-hour emergency service, unlimited mileage, child seats and booster seats, additional services and additional drivers. The cost for these additional services can be requested. You are welcome to contact our reservation agents on the phone number +49 89 380 356 76. If you are planning a one-way hire, which means that you would be dropping off the vehicle at a location other than the pick-up one, we suggest to contact Auto Europe for advice and more information in advance. With Firefly, you can choose from a wide range of vehicle categories, so you will surely find the right car for your holiday. Choose a car from the mini category, which is ideal for two people and with which you can easily find a parking space. Firefly makes it possible to rent a car with a powerful engine for an affordable price. Our car rental partner Firefly might be a budget brand, but customers will not miss comfort. Choose a Firefly car hire with Auto Europe for a carefree trip.