Health and safety measures for a car rental with Thrifty during COVID-19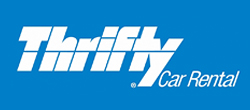 As a subsidiary of the Hertz Corporation, Thrifty car rental is one of the largest global car rental companies. Established in 1958 in Estero, Florida, USA, the company has grown substantially over the years to its current presence in over 4,000 locations. This in part is due to its partnership with Hertz and its other subsidiary – Dollar Rent a Car. Thrifty is one of the best known companies when it comes to providing cheaper car rental within the tourism, business and leisure sectors. Due to their experience, customers can feel confident that a car rental with Thrifty during the coronavirus pandemic is a safe and secure option. Their main markets include all of the Americas, Caribbean, Europe, Africa, the Middle East, Asia and the Pacific.
Auto Europe is one of Thrifty's main partners – together we provide excellent quotations, customer service and a large fleet of vehicles to choose from. Along with numerous global pick-up locations, we also provide luxury car hire, motorhome hire and a transfer service. During this pandemic customers can rest assured that all Thrifty rental cars are professionally cleaned, with all hygiene and safety measures taken into consideration. The methods employed are designed to ensure that all our customers are kept safe and away from potential risk of contamination. If you're interested in placing a booking with Thrifty, contact our reservation agents on +44 123 3225 114.
Car rental with Thrifty – Safety measures to protect clients from coronavirus
In order to ensure the safety of its customers and employees, Thrifty has put together several additional security measures. With their customers in mind, Thrifty has adopted these health and safety measures across all its offices – at airports, train stations and central city locations. The company is in constant contact with local health authorities and government offices, along with keeping itself up-to-date with all the recommendations of the World Health Organisation (WHO).
Thrifty recognises and values the trust that its customers have placed in the company. It will continue to provide a high quality service, in addition to implementing rigorous health and safety methods. Each car rental with Thrifty during Covid-19 is inspected between rentals, and numerous preventative methods undertaken to help minimise the risk of contamination within the cars themselves and at office counters. With this in mind, each vehicle undergoes a several stage cleaning process, to ensure total disinfection between rentals.
Measures and procedures for cleaning
Thrifty has intensified its cleaning methods at all its global office counters and transfer shuttle buses. These methods include the use of disinfections approved by local health authorities for cleaning the surfaces of counters, handles, kiosks, etc.
Thrifty has increased the number of alcohol-based hand sanitizers at all its office counters. In addition, the company also encourages its employees to wash their hands regularly, as well as implementing other health and safety measures.
All the Thrifty vehicles undergo an intensive and professional several stage cleaning operation, paying particular attention to surfaces of greater contact, such as, steering wheels, seats, handles, control panels, etc.