Health and safety measures for a car rental with Keddy during COVID-19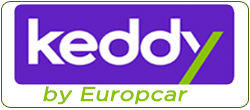 Keddy was established in 2015 by the Europcar car rental company. One of the primary goals of Keddy was to offer a lower cost car hire to its customers – especially via its partnerships with numerous travel agents. Due to the way the company is set up, customers are unable to book directly with it – as no website or counter offices exist. Customers wishing to make a reservation with Keddy must instead use the Auto Europe website in order to do so. Once booked, you may pick-up your vehicle with Keddy via the Europcar counter of your choice. Through Keddy you can take advantage of the great customer service and extensive international network that Europcar provides, but at a lower cost. Overall, a car rental with Keddy during the coronavirus pandemic is a safe and secure option.
Auto Europe is a broker that provides through its partners excellent car hire quotations and customer service. With a large fleet of vehicles to choose from, and all at convenient locations worldwide, we do not only provide car hire, but also luxury car hire, motorhome hire and a transfer service. Contact our reservation agents on +44 123 3225 114 should you wish to find out more or place a booking.
Car rental with Keddy – Safety measures to protect clients from coronavirus
Europcar Group has over seventy years of extensive experience gained through its global network of local branches. Keddy strives to continue on this tradition by ensuring safety and flexibility to all its customers and employees. The cleanliness and disinfection of all its vehicles is extremely important, especially during the current global pandemic. Taking this into consideration, Keddy by Europcar has implemented new measures and improved its current cleaning regime so that a car rental with Keddy during Covid-19 is a safe and secure option.
Measures and procedures for cleaning
Since the start of this unexpected crisis Keddy by Europcar has done everything possible to ensure the health and safety of all its customers and employees. The new disinfection and cleanliness methods employed, together with emphasis on social distancing within its branches, should ensure any potential of contagion is minimised. Vehicles are cleaned and disinfected between each rental and a "Zero Contact" policy implemented at all its branch counters. Along with acrylic barriers on all counters, vehicle keys are also disinfected and handed over in an enclosed envelope. Now more so than ever, the health and safety of its customers and employees are top priority.