Health and safety measures for a car rental with Enterprise during COVID-19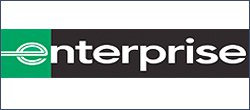 Enterprise Rent a Car is part of the Enterprise Holdings Group, owned by the Taylor family. The company has its headquarters in St. Louis, Missouri, USA, and was founded in 1957 with just seven vehicles. Enterprise Holdings Group also owns the Alamo and National car rental brands, together; all three make up one of the world's largest car rental companies.
Although, very similar, all three brands focus on different market segments. National is considered the premium brand; Enterprise has a larger global coverage and reach, whilst Alamo focuses on the tourism sector. Together, you'll be able to find a car rental with Enterprise during the coronavirus at over 6,000 global locations.
With more than 60 year's car rental experience, Auto Europe has partnered with several global car rental companies to guarantee great quotes and exceptional customer service. Our successful partnership with Enterprise has lasted many years and through numerous global events. This trust allows us to guarantee that all the health and safety measures are well taken care of by Enterprise. If you have any questions or would like to make a booking, contact our reservation agents on +44 123 3225 114.
Car rental with Enterprise – Safety measures to protect clients from coronavirus
Enterprise's top priority is to ensure the safety of all its customers and employees during the current pandemic. In order to minimise and prevent further spread of the virus, Enterprise has adopted numerous security methods and procedures. The below list provides a breakdown of the multiple approaches being undertaken for your safety. With this in mind, you can be relaxed and rest assured that your car rental with Enterprise during Covid-19 is a safe and secure one.
Complete Clean Pledge – Promising the highest standards in cleaning and safety
Vehicle cleanliness has always been extremely important to Enterprise. In the current situation, this is even more important during the cleaning of all the vehicles. Keeping this in mind, Enterprise has implemented the following procedures and protocols for your health and safety between each rental - in accordance with the recommendations from local health authorities and the World Health Organisation (WHO). This means that for you as a customer, the "Complete Clean Pledge" promise means maximum cleanliness during the current crisis.
Measures and procedures for cleaning
In addition to existing standard procedures, Enterprise has also upped its cleaning on areas with greater contact between bookings and at office counters, including:
Key and keyring cleaning
Vehicle gearstick cleaning
Cleaning of vehicle cup holders and compartments
Cleaning of seats and pockets
Cleaning of areas between the seats and doors
Vehicle control panel cleaning
Vehicle dashboard cleaning
Vehicle steering wheel and columns cleaning
Cleaning of vehicle coverings
Cleaning of vehicle interior and door compartments
Internal and external vehicle handle cleaning
Cleaning of vehicle mirrors
Seat belts and sun visors
Boot release handle.
The rigorous cleaning and disinfection of all other frequently touched surfaces.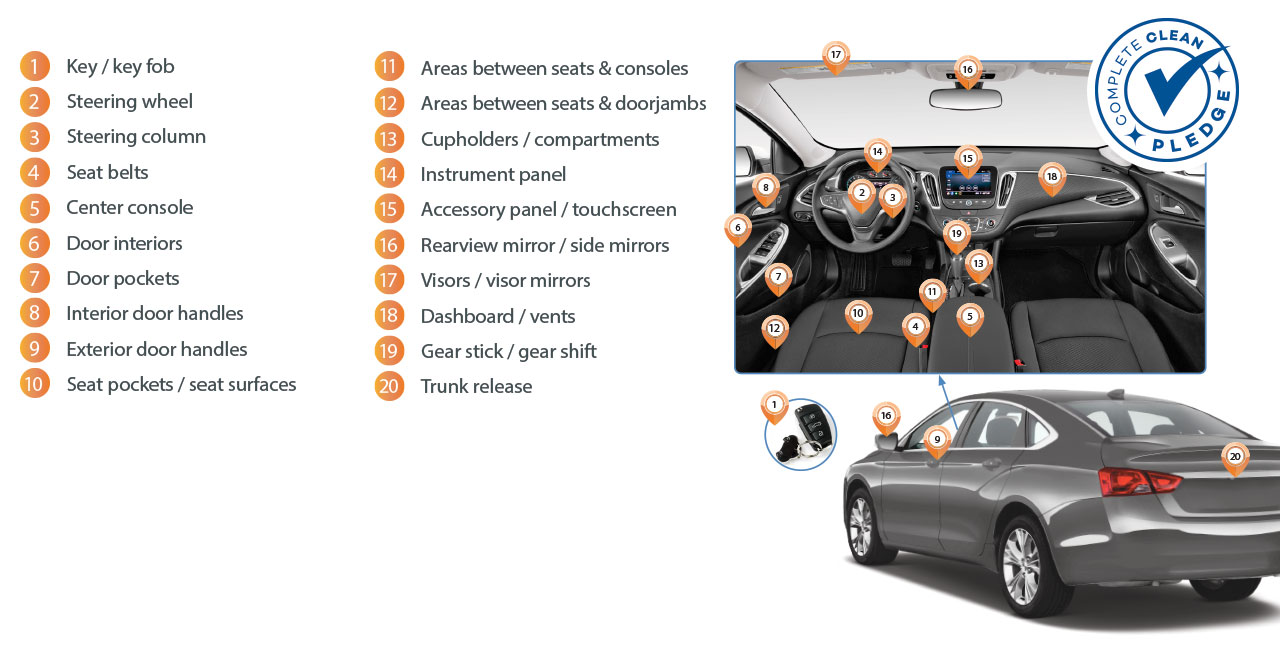 Additional methods taken by Enterprise to reduce the spread of the new coronavirus
In addition to all the previously mentioned cleaning methods, all Enterprise employees must follow the measures recommended by the WHO and local health authorities to reduce the possibility of another outbreak and stem the spread of the current new coronavirus. The following measures have been adopted:
Limiting the number of employees at the office counter at one time
Implementing social distancing
Any employees with symptoms must stay home
Frequent hand washing – especially between dealing with customers
Complete disinfection of frequently touched surfaces
The uptake of disposable gloves to clean and disinfect vehicles
Interaction with customers is minimised during vehicle collection and drop-off
Individual team equipment is protected and secured to avoid cross contamination
If employees are taken ill during working hours, they will not be encouraged to continue working.
Some Enterprise offices also provide the opportunity to have your rental vehicle delivered or picked up at a roadside location. This is an attempt to minimise unnecessary contact in the office and during your journey.